Handmade Baby Quilts, Crib Quilts, Cat Quilts and Lap Throws along with Quilted Cat Throws and Quilted Wall Hangings, all are Handmade and 100% Cotton. Get a Baby Photo Quilt Made, Bed Quilts of All Sizes and Any Animal Quilt You Like, We Have Crazy Cat Quilts too and Quilts for your Crazy Cats!
Handmade Custom Quilts to Your Order.

Need a long lasting quality gift for a loved one? Every Quilt is pre washed, machine pieced and can be Machine Quilted or Hand Quilted. We Can Make You a Photo Quilt with Your Baby's Photos and Name on the Quilt. We can Make a Regular Size Quilt, Baby Quilt or a Custom Quilt of Your Choice.
Find Handmade Baby Quilts For Sale along with Crib Quilts, Quilted Wall Hangings, Lap Throws, Cat Throws and Cat Quilts on the For Sale Page. Need a Quilt as a Gift with the Baby's Name on the Quilt? Then see Our Personalized Quilts Page there you can get a Custom Baby Photo Quilt Made to Your Order.
See the About Me Page for more information on the Custom Quilts and Quilt Finishing I can do for you from our smoke and perfume free home, stop into Cindy's Quilt Studio and see where the quilts are made.
Most of the Quilts I Make are to Your Order, There are a Few Quilts you can Buy Right Now on the For Sale Page. If you have a Quilt Idea in Mind I Can Make You a Personalized Quilt, also do Logo Quilts, Turn Your Wedding Dress in to a Wall Hanging or Bed Cover.

If You Can Dream It - I Can Quilt It!*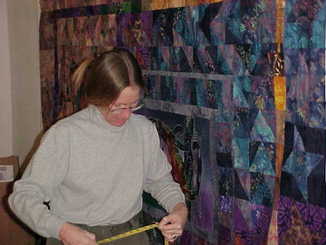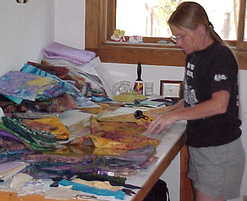 I love to make quilts, it is a labor of love for me.
Established On The Net, In March of 1998
2019 Brings 21 Years On The Net!!!
We take All Major Credit Cards and use
for a Secure Transaction.
All quilts are 100% high quality cotton, this makes for a reliable, machine washable product that will last a life time & more.
Custom HandMade Quilts Keep an Eye on the For Sale Page
Remember We Accept Credit Cards Through PayPal
Custom Quilts, If You Can Dream It - I Can Quilt It!*
*
To See The Hand Made Quilts We Have For Sale Follow This Link.
*
PLEASE NOTE: We Do Not Mass Produce or Drop Ship Quilts